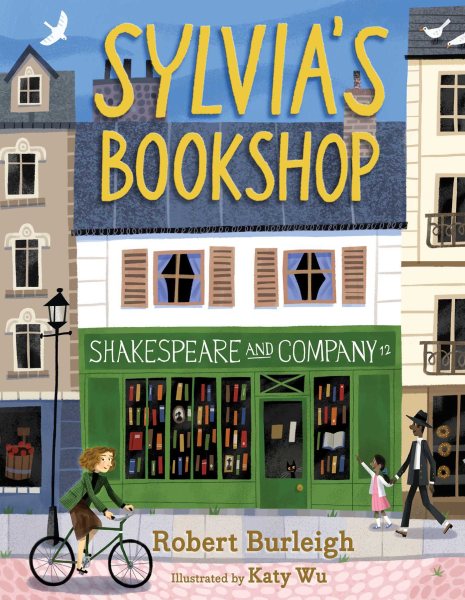 This fun selection is written from the perspective of a famous Parisian bookstore which, in cheerful rhyming verse, recounts the story of its owner, Sylvia Beach, an enterprising American woman who opened the shop in 1919.
"When Sylvia first saw me, there wasn't much here.
Two chairs. A table. A dusty old mirror —
A stove in the corner to burn warm and bright
When winter's dark clouds turn day into night.
'Aha!' Sylvia laughed when she walked in the door.
'What we need here is books, from ceiling to floor!'
Now she flings wide my shutters – sunflowers, blue sky!
The clip-clop of horses. A street seller's cry."
Named Shakespeare and Company, Beach's shop drew rock stars like Ernest Hemingway, Gertrude Stein, F. Scott Fitzgerald, James Joyce, and Simon de Beauvoir, who lingered over cups of tea to discuss literature. Impressive company, indeed! The text is airy and simple, making it an achievable example of personification and point of view for even younger students to emulate in a creative writing unit (think stories about their families told by the homes they live in). While the main text is on the lighter side information-wise, there are several pages of back matter that can be used to kick-start additional units for older students: an encapsulated history of printing, profiles of the literary heavyweights who frequented Beach's business, and a more in-depth account of Beach's background, including the fact that she had to close her shop when the German army occupied Paris in 1940 and that she was arrested for speaking out against the Nazis and for helping Jewish friends escape. In celebration of Women's History Month, read this out loud to students and have them research and write profiles of famous female entrepreneurs, many of whom have had huge impacts on life as we know it, but whose names are not nearly as recognized as they deserve to be – Madam C.J. Walker, Debbi Fields, Olive Ann Beech, Mary Katherine Goddard, Katharine Meyer Graham, and so many more. Have the students pair their writing with an image of the entrepreneur and the product or business with which she is associated and hang these pages on the wall outside your classroom to create a hall of fame. Perhaps a young entrepreneur in your school will be inspired to get to work on her own business plan.